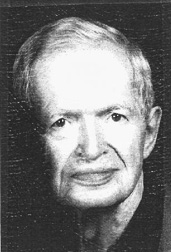 Perry Burkhart's daughter Carolyn gives a family history that is as complex as autism itself. He has three grandchildren with ASD and is the father of adults with possible Asperger's although there have been no official diagnoses. Carolyn remembers that her father tended to be on the quiet side and disappear early from social gatherings at home, and go to bed. He did well in his business and socialized there but did not initiate new social contacts outside of the business after he retired.
Perry loved the wind, because as he would say, "Things change after a good wind." He took pleasure in gardening, repairing appliance, and swimming at his beach home on Case Inlet. He also enjoyed traveling with Dorothy in South America, Thailand, China, Russia, Mexico and Alaska.
Melody, Perry's granddaughter (pictured to the right), is significantly affected by autism and has inspired the family's dedication to facilitating research in the field of etiology of ASD. Melody has reminded the family of Inez. Born in 1903 in Kent, Washington, Inez was a very responsive baby who said her first words at 9 months and reported to be the brightest of fraternal twin sisters. She became ill with a high fever from whooping cough or typhus and at 18 months she had her first generalized seizure and developed epilepsy. She stopped talking and interacting and when her seizures got really frequent she stopped walking. The seizures stopped when she reached puberty and as shown in the photo, she walked then but did not wish to be touched. Inez's sisters would take turns staying with her each night, during the time she lived at home. They said that Inez played with a couple of spoons or other items in bed, and did not sleep most of the night.
---